PENINSULA PAPAGAYO, GUANACASTE, COSTA RICA
The Andaz Costa Rica Resort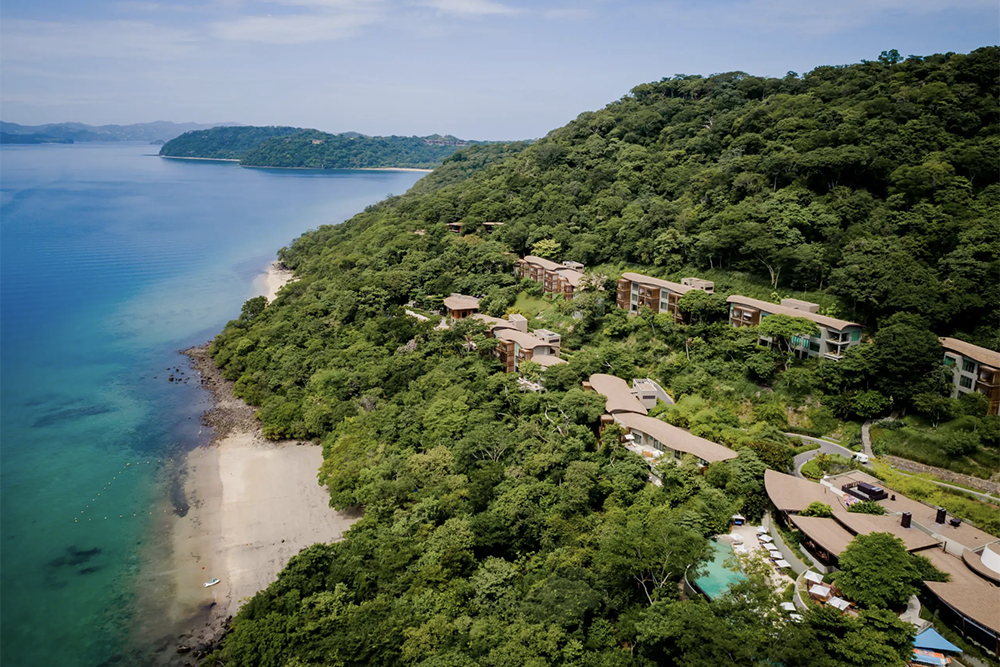 Just as forests and meadows grow and shrink in size over time, communities grow organically. Part of what makes destinations unique is how history has shaped their vitality and growth.  Successful developers of master planned resort communities have to simulate this organic growth, while also performing against a budgeted schedule of investment, construction and sales of residential and commercial real estate.
One such luxury resort community is Peninsula Papagayo. The 1,400-acre community is located  in the destination of Guanacaste, Costa Rica, which has been on a steady growth trajectory, with one or two global economy-related interruptions, since the 1990s.  The Four Seasons Costa Rica was the first luxury hotel to open in Peninsula Papagayo in 2004, and it experienced a stellar ramp up in occupancy and ADR during its first several years. 
By 2012, the developers of the resort and a major hotel operator were planning the construction of a second hotel in Peninsula Papagayo.  We were asked to perform a market study and forecast the potential cash flow from operations that the planned hotel would generate. It was to be a hotel of roundly 150 keys, on a 28-acre site, conveniently located near the entrance to the master planned resort and its marina.  The hotel was designed to be built along a broad hillside with its guestrooms configured in seven buildings. Space was reserved further up the hillside for branded residences to be developed at a later time. The hotel site has plenty of waterfront on Culebra Bay but has no sandy beach within its boundaries. However, Peninsula Papagayo has seven beaches and one of them is within walking distance of the hotel. 
An additional risk factor was that the hotel would be one of the first to be branded as Andaz, under the Hyatt family of hotel brands, which had very little recognition at the time among luxury travelers. The first Andaz to open was an urban hotel converted from a Hyatt Regency, and the next two hotels to carry the Andaz name were resort hotels: the Andaz Wailea in Maui, and the Andaz Costa Rica. In evaluating these two hotels' relative likelihood of success, we took into consideration that Wailea had a 40-year history as a luxury resort destination with eight resort hotels, 2,400 homes and condominiums, three eighteen-hole golf courses and five sand beaches. Peninsula Papagayo was offering a spectacular hotel site, but with only eight years of operating history and one hotel, the surrounding community was still mostly a blank canvas.
Lastly, it was not clear whether the new Andaz, with targeted ADR levels roundly 40% lower than those at the Four Seasons Costa Rica, would attract a unique guest mix or whether it would attract Four Seasons guests to book at a discount, cannibalizing the premium revenue and net income positioning that the Four Seasons had been enjoying.
The Andaz Costa Rica opened in December of 2013.  2014 hotel performance was disappointing, with annual occupancy well below 50% and ADR less than half that of the neighboring Four Seasons Hotel. We took no joy in seeing our forecasted performance play out in the hotel's initial years of operation. However, we are glad to report that after a slow and steady ramp-up and a few tweaks to the program, such as instituting a water shuttle to deliver guests to the new beach club instead of having them walk to an unimproved beach, the hotel has been a great companion to the Four Seasons Resort Costa Rica. With typical peak season nightly rates of roundly $900, the Andaz has cultivated a unique market of visitors, well differentiated from that of the $1,800 per night Four Seasons Costa Rica. 
SERVICES
Market Study
Strategic Pricing